2 Girl Phone Sex is Better Than One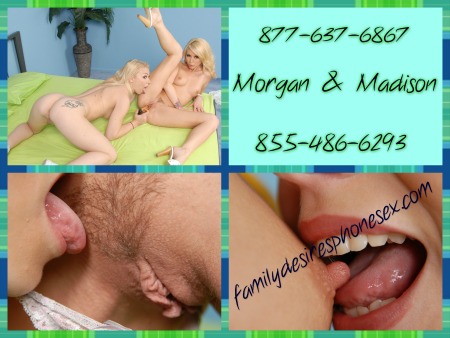 2 girl phone sex costs more, but sometimes that extra money is money well spent. Morgan and I do solo calls of course, but as a duo, we are hotter. Even in our time off the phones, we have our own lovers, but then we have guys we share toge too. Yesterday was Black Friday. We didn't get up early to shop.  We stayed up late to fuck. Morgan is dating this handsome young stud who joined us for Thanksgiving dinner. Now, she had not yet told him how close she is with her mother. I was on good behavior, because she likes this boy. I would never come between her and a guy she truly likes. We drank a bunch of wine. Todd was too drunk to drive home, so he stayed the night. He wasn't too drunk to fuck. I masturbated listening to them go at it like wild animals from my bedroom. Morgan knew this would drive me wild. She came into my room around 5 in the morning. She said, Happy Black Friday, mommy." Then, Todd stepped into the room naked. She told him all about her relationship with her sexy mommy. He approved and wanted in on the fun. Smart boy. So, while other women were standing in the cold waiting for a bargain, I was fucking my daughter and her new boyfriend. I am so happy for her because not only is he handsome and smart, he is a great lover. Turns out he had a special relationship with his aunt growing up. She taught him how to eat pussy and fuck. Subsequently, he likes MILFs too. I was just happy to enjoy them both. I know Morgan is growing up and fucking guys her own age, but I still want my baby girl in my bed. If she has a boyfriend who will join in like Todd, all the better.
Phone Sex Rates
Billed discreetly as WBMTT Enterprises.
$2.00 per minute all calls in the Continental United States.
$2.50 per minute all calls from Canada & International Calls.
$4.00 per minute for 2 girl calls in the Continental United States.
$5.00 per minute all calls from Canada & International Calls.
We also offer cyber text sessions and those are at the same rate as calls
10 minute minimum on all calls, no exceptions.